Obituary for Ann Lincoln Wylie
Mrs. Ann Lincoln Wylie passed away peacefully on Sunday, September 8, 2019 at the age of 79 at the Springs Village Care Facility, Colorado Springs, Colorado. While Ann lived her married life in West Seneca, New York (a suburb of Buffalo), she never fully left "home." She spent her formative years in the town of Canandaigua, New York, and on a farm in the nearby village of Holcomb. Perhaps the touchstone at her core was the keen sense of loss for the places and people that populated it, that she had last called home.

Ann was born to parents Herman and Wilhelmene "Willy" (Sullivan) Lincoln. She was the youngest of two children; her brother John W. Lincoln, also recently deceased. Ann's parents also welcomed her cousins, David and Mary Jane Lathrop, into the fold of their family. Before them, Willy and Herman cared for her cousin, James "Micky" Finn.  Ann is survived by Mary Jane Lathrop Ward.
 
Ann attended Bloomfield Central Schools. She graduated with the class of 1958, almost in spite of her professed aversion to schoolwork and the accompanying peril of following in the wake of her brother's stellar academic performance. Her pronounced disaffection for math, particularly algebra, she carried with her throughout her life. During her freshman through senior year at school, Ann was part of an all-girls trombone quartet with schoolmates, Anne Armstrong (her future sister-in-law), Carolyn Jenks and Faye Jollette. They played Sousa marches and performed in Syracuse.   
 
For her 15th birthday, Ann's parents gifted her with a 15-month old heifer she named Phoebe. The family initially owned Jerseys (dairy cattle) before the industry shifted to Holsteins. Ann held great esteem for the creamy milk product of her Jerseys. Ann showed cattle at the Ontario County Fair and at the Syracuse State Fair. She also had a knack for conformation and she judged classes at the State Fair.
 
Another gift from her father was a horse named Copper. Copper was a golden Palomino with a white mane and white tale. He looked, she said, like Roy Rogers' horse, Trigger. Ann enjoyed riding Copper when he wasn't throwing her into a fence post or bucking her off. During one escapade, she was flung with her face one moment 4 inches from the macadam and the next looking up at the sun, until her cousin Jane, astride Coco, (a 17-hand high thoroughbred/quarter horse mix) managed to catch the horse's reins just shy of the dump road. Ann enjoyed barrel-racing and set up a clover leaf of barrels and a jump in the pasture next to the barn.  
 
Ann expressed interest in attending SUNY-Cortland with an objective of becoming a physical education teacher. But, Ann, who in her youth had prided herself on never listening to her mother, acceded to the wishes of her family, and began work at the Rochester Telephone Company. 
 
Her first car was a 1958 convertible Chevrolet. She cruised Main Street all the way to Ginghamtown at the corner of Lake (which was where all the college kids gathered when they came home) with the top down and a beverage on the dash. One evening, the car she claimed reached a top speed of 92 mph when she last checked flying up Messenger Hill. On that occasion, she lost control and landed nose first in a culvert. The car was eventually repaired, however, she replaced it to her everlasting regret with a Dodge Dart that had a push button start. It was indisputably "the worst car I've ever had in my life," she said.
 
Ann demonstrated prowess while working as a switchboard operator. She was a quick study and she applied those skills to track the activities of a handsome swarthy, Italian-seeming, Korean War Veteran, whom she had encountered one evening at the establishment of Vance's in Chapin, New York. David was then a trainman on the Lehigh Valley Railroad. She was able to deduce when he called in to take a shift off work, perhaps by listening in on his line. Ann surmised that by force of habit David would either turn out later at Twentyfive's, a small restaurant in Manchester, New York; or at Vance's.  "If I didn't want to see him, I'd avoid those places. If I wanted to see him, I'd go down to Manchester, and happen to walk in."
 
Ann married David Edward Wylie in 1964. The couple had three children, daughters Jean and Barbara and son, James. Ann appeased her love of all athletic pursuits by coaching the girls' softball team; and avidly following all of her son's hockey and volleyball games. Volleyball, it must be conceded only grudgingly, as she would have preferred to follow football games. Even in her senior years, she made numerous efforts to steer her grandsons into football, unsuccessfully.  
 
Ann and her husband returned for a time to live near her cousin, Jane, in Canandaigua and a short drive from her brother John's farm in Holcomb. She would begrudgingly observe that for her parents, the sun rose and set on John. Even so, Ann was endlessly proud of his achievements and accomplishments. She loved John dearly.  
 
After 49 years of marriage, Ann's husband, David, passed away in 2013 after a long bout with Parkinson's Disease. Ann missed him tremendously.  
 
Ann was always vivacious and full of both spunk and opinions, which she freely shared. She made friends easily and was lively company. She enjoyed wagering at thoroughbred racetracks across the country with her husband. Her daughter Jean and son-in-law indulged her on occasion with forays to casinos in New York and Cripple Creek, Colorado.  
 
Ann is survived by three children, Jean (Thomas) Pollmiller, Barbara (Anthony) Frische and James (Karen) Wylie; six grandchildren, Ryan and Zachary Pollmiller, Copernicus and Sidonius Frische, and Jordan and Kaitlyn Wylie; and several nieces and nephews. 

Memorial Service, 11:00AM, Saturday, September 21, 2019, The Springs Funeral Services, 3115 East Platte Avenue, Colorado Springs, Colorado 80909.

Ann will return home one last time to be interred with her husband at Brookside Cemetery in Shortsville, New York. We shall miss her.
To send flowers or a remembrance gift to the family of Ann Lincoln Wylie, please visit our Tribute Store.
Upcoming Events
Memorial Service
The Springs Funeral Services
3115 East Platte Avenue
Colorado Springs, , CO 80909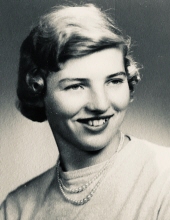 Thank you for sharing your
memory of Ann
Provide comfort by sending fresh
flowers from our local florist.
No thanks, please don't show me this again.