Obituary for Cordelia "Cordy" Priscilla Haile
Cordelia Priscilla Valdez Haile, 81, passed away on October 17, 2019. She was always a fighter, and even more so with Alzheimer's/Dementia. As she would say, "I'm a strong, independent Christian woman."

This is the story of an extraordinary woman, mother, grandmother and great-grandmother who was born on December 24, 1937 in Durango, Colorado. Boy, she would never let that go, getting jipped on all her birthdays. The daughter of the late Rev. Chris Valdez and Rosa Antonia Jacquez Valdez, Cordy leaves behind a family that she was very close to and proud of. Cordy was world-renowned for her lack of patience, not holding back her opinion and she had a knack for telling it like it was. She always told you the truth, even if it wasn't what you wanted to hear. We were told so many times how she had to walk for miles in a blizzard to get to school, "so suck it up". I later saw how far she walked, and it was not even two blocks. Thanks Mom. With that said, she was genuine to a fault; a kindhearted person who would help anyone and yet she sugar-coated nothing.

Cordy was gorgeous, elegant, refined and posh. She graduated from Nyssa Oregon High School in 1956. She then went to cosmetology college in Idaho Falls, Idaho and then returned to Nyssa, Oregon and opened Fashionette's Beauty Shop. Donald Jack Haile was renting the apartment above her shop. He was in the military and a local police officer. Cordy met Donald by doing what she loved, putting the pedal to the metal, resulting in twenty-eight tickets. Donald just wanted a date. On July 16, 1961, only a few months later, they got married in Winnemucca, Nevada. They had two children. Donald passed away while serving our country in the Vietnam War, February 9, 1968. Cordy moved back to Colorado Springs, Colorado in 1968. She opened the first nail salon in the Broadmoor and named it "Cordy's Nails and Beauty Boutique" (1968-1995). It was also the first non-smoking beauty shop. She traveled across the western United States teaching other beauticians and beauty schools how to do acrylic nails. She started the first women's jail ministries in four states and assisted in opening women's homes to support the women when they were released. She would teach them how to start over, how to be successful in life on a Christian basis. She was able to do all this with a little help from her many prominent friends in Colorado Springs and by being involved with churches and pastors.

Cordy got an extensive vocabulary change in 2013 due to her onset of Alzheimer's/Dementia and was more than highly proficient at knowing more curse words than most people learn in a lifetime. Cordy liked four-letter words as much as she loved her rose gardens and trust us, Cordy LOVED to weed those gardens with us as her helpers when child labor was legal; or so we were told while chopping wood, mowing the yard, and cleaning everything from top to bottom. These words of encouragement, wisdom, and sometimes comfort, kept us in line, taught us about life, and gave us something to pass down to our children.

Everyone always knew where they stood with her. She either liked you, or she didn't; it was black or white. As her children, we are still trying to figure out which one it was for us (we know she loved us and wanted us to be Christians). She was the worst master cook in the kitchen. She believed in overcooking everything until it was black and raw in the middle, so you would never get sick because all the germs would be nuked. Freezing germs also worked, so by Friday our school sandwiches were popsicle sticks, but totally germ free. That was if we got a school lunch. Cordy taught us perfect etiquette. All of us learned to use a napkin. We would pretend to cough, spit the food into it, and thus was born the Cordy diet. If anyone would like a copy of some of her recipes, we would suggest you don't. Thus, Cordy gave her grand-babies ice cream for every meal. None of her kids got ice cream. Have you ever heard of boiled vinegar spinach? You don't want to. She did have some good recipes, I think? Therefore, she made sure her daughter took cooking classes and went to Finishing School.

Cordy had so many real friends! Kids these days think they have thousands of friends on Facebook, but Cordy had them way beat! She will be deeply missed.

She was preceded in death by her loving husband, SSgt Donald Jack Haile, which she never let her family forget. She would always say Donald was a loving, caring man and then suddenly, she would call him a Jackass for leaving her! So, her family really thought his name was Donald Jackass Haile! She was also preceded in death by her grandson-in-law, Michael Adam "Mikey" Reindl and most of her family members, all whom loved her dearly and will never forget her love and grace (when pertinent).

Cordy is survived by her children, a son, Mark Dale Haile, a daughter, Margo Dianna Haile Manning (Rocky), and son, Bret Cameron Wagner; grandchildren, Nathaniel Vincent Manning, Donald Patrick Manning, Rockelle Dianna Manning Reindl, and Dale Page Haile; and great-grandchildren, Jace Donovan Manning and Mick Asher "Mickey" Reindl.  

A private family 'Celebration of Life' will be held in lieu of a service due to most of her family and friends not being able to attend because they decided to beat her to the Pearly Gates. Please note Cordy's change of address to her new place of residence, through the gates of Gabriel into Heaven to be with God and Jesus, her husband, grandson-in-law, family and many, many friends.

Please send donations and flowers to the family of Cordy Haile c/o The Springs Funeral Services-North, 6575 Oakwood Boulevard, Colorado Springs, Colorado 80923.

Memorial Service, 1:00PM, Thursday, November 14, 2019, Radiant Church, 4020 Maizeland Road, Colorado Springs, Colorado 80909.
To send flowers or a remembrance gift to the family of Cordelia "Cordy" Priscilla Haile, please visit our Tribute Store.
Previous Events
Memorial Service
Radiant Church
4020 Maizeland Road
Colorado Springs, CO 80909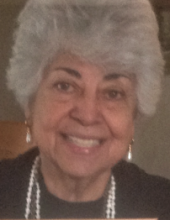 Thank you for sharing your
memory of Cordelia "Cordy"
Provide comfort by sending fresh
flowers from our local florist.
No thanks, please don't show me this again.